Sherlock Holmes is Everywhere These Days:


Ships Jan. 24, 2017
Pre-Order Now


Of course, Sherlock Holmes has been mostly continuously "hot" since the first short story appeared in The Strand Magazine in Britain in July 1891: two other stories had been published before that (the first one in 1887). The first movie was shown in 1902 and since then Sherlock Holmes has been the most portrayed human character in film & TV ever (so says the Guinness Book of World Records). The British mostly took a break from their obsession with the character while being bombed during World War II, but the Americans, in the war years of the early 1940s, created films in which Sherlock Holmes (played by Basil Rathbone) updated to those times to help the war effort, mostly by finding spies through his powers of observation.

And now we have a BBC series, Sherlock, and a CBS series, Elementary, (both set in modern times), and a series of movies (set in Victorian times but with what some would call modern sensibilities). All based on a character who first appeared 127 years ago.

This website may start by focusing on Sherlock but will expand to cover the original stories and everything since then --- a grand ambition which may take a little time. We hope to come close to being more complete by the time the next series of Sherlock appears, which is scheduled for sometime in 2016.

PBS Responded to American Complaints and Season 3 of Sherlock Was Barely Cut:
We do have information on cuts to PBS previously broadcast episodes; "A Scandal in Belgravia", "A Study in Pink" and more. The American audience missed out on about 8 minutes of each first and second season episode. The DVDs and streaming videos should be uncut. The Third Season was broadcast mostly uncut with a "bad" word ('cock') cut in "Empty Hearse" and in "The Sign of Three" half a word was muted to turn 'asshole' into 'ass'. So far haven't found anything missing from "His Last Vow."

Uncut versions of the previous episodes may be available through NetFlix and other places. The Uncut DVDs for the U.S. came out February 11, 2014.

Find here a complete episode guide to Sherlock by season (the British call them series): First, Second and Third: the third finished showing in Britain January 12 and started in the U.S. January 19 (a vast improvement in lag time over previous years). Also information is available on each of the characters and some major relationships. As well, we will be doing some comparisons between the original stories and these episodes.

A Phenomena with just 13 Episodes
Although this British / BBC modernization of the Sherlock Holmes stories, originally written by Sir Arthur Conan Doyle (who was given a knighthood that he would never have received without him having written the Holmes stories), has only produced nine 90 minute episodes over four years, it has become a world wide phenomena. Quite a bit of the credit for that goes to the writers and producers, who in the first episode even explained a mystery that has puzzled fans for more than a century: how did Dr. Watson's wound move from his shoulder to his leg from one story to another? This new series has a sense of play about it as focuses on murder and mayhem. The co-creators have said of this Holmes that he doesn't have cases, he has adventures (after all the first short stories were gathered together as The Adventures of Sherlock Holmes).

The Writers: Steven Moffat , Mark Gatiss, Stephen Thompson
The writers have built on Doyle's characterization of Sherlock and taken it a step or two (or three) further so we watch as the great detective tries, with the help of John and others, to learn about friendships (the original Sherlock Holmes once told Watson that except for him, he had no friends) and to live alongside other people a little better. It is often charmingly funny but sometimes rather poignant for him, Watson, the others around him, and for us. It is an adventure not to be missed (most of the time: some episodes may be on a higher level than others).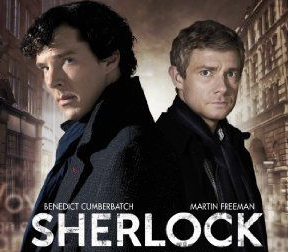 The Two Main Actors: Benedict Cumberbatch and Martin Freeman
But though we like crediting writers, we must admit that in this case, a lot of the credit for the show's success rests upon the shoulders of the two stars who inhabit these modern renditions of their characters. There have been some great actors playing Sherlock Holmes and some well done portrayals of Dr. John Watson but often one of the partners fell short of the other. In this case, although the focus is on Sherlock, played by Benedict Cumberbatch, John Watson, played by Martin Freeman, holds his own next to his more famous partner. Since taking on the roles of Sherlock and John in 2010, the two stars have become far more famous: Mr. Cumberbatch played the most famous "Star Trek" villian in the second reboot movie (and many more movies star him and more seem to open every few months), and Martin Freeman is Bilbo in the new "Hobbit" movies (and he is now branching out into other things).
The recent showings of the third series in Britain (early January 2014) broke BBC records and for viewership and for pre-ordering the DVDs.
This is a new take, but Sherlock Holmes has been portrayed more than 254 times in film and TV. In addition you can sometimes notice that a character with a different name in a different time or place is really Sherlock Holmes such as the 14th century monk who solves the case in The Name of the Rose, and also Dr. Gregory House in the TV Show, House MD (who was even seen with the address on his door of 221B).